A Great Player, but a Weird Case of Inconsistencies and Frustrating Play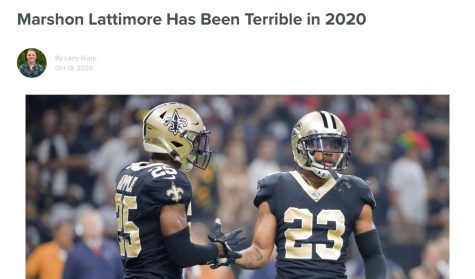 Back then New Orleans' Saints cornerback Marshon Lattimore was considered one of the best defensive backs in football. The 6th year veteran's rookie season was the most impressive in his entire career where it won him DROY (Defensive Rookie of the Year) in 2017, and an overall PFF grade of 86.1. Ever since his rookie campaign, his play has steadily declined. His PFF grades have now gone to 73.3, 68.1, 54.1 2018-2020. Consistency has
always been a knock on Lattimore, which explains his decline. However, in 2021 Lattimore bounced back finishing with his second best season of his career with a PFF grade of 77.3 and ranked 10th out of 116 cornerbacks. You probably think he's back to his elite ways right? It's not the greatest to say the least. We're going to look through Lattimore's seasons by year.
(2017) The first DB drafted, Lattimore immediately made an immediate impact on the Saints defense. Only allowing 36 catches on 68 targets and recording 5 interceptions leading the defense. He then won Defensive Rookie of the Year along with his first pro bowl selection.
(2018) Lattimore had a mini sophomore slump in 2018. He allowed so many big plays left and right his stats declined a bit too. His postseason performance made up for it though. 2 interceptions and 5 PBUs.
(2019) This is definitely one of his best seasons ever. Off to a slow start for the first 3-4 weeks. Allowing the most yards in the league and 2 touchdowns. After week 4, he played like an all-pro. Only allowing 41% of catches thrown to his way, allowing 26 yards per game and recorded an interception which gave him a second pro bowl.
(2020) This is arguably the worst of Marshon Lattimore. First game of the season he did not allow a single catch. Multiple bad games from Lattimore. Quarterbacks had a perfect passer rating when targeting Lattimore (158.3) and allowed a career worst of allowing 7 touchdowns (2nd worst in the NFL). The final games of the regular season Lattimore had solid production of 11 pass break-ups with 2 picks. Somehow got selected to the pro bowl but that was only because of his name popularity. He was very lucky to play well towards the end of the season or else he would've gotten franchised tagged rather than signing the big contract.
(2021) The year looked promising. Lattimore got a massive extension earning a 5 year, 97 million contract after an elite performance against the Packers. For the first time in a while, Lattimore led the league in pass break-ups (14) , an interception and a catch % of 45. In weeks 8-13, he crashed and burned up. Allowing 5 touchdowns, 337 yards, and a catch percentage of 76. Up and down season for Lattimore but he did set a new 2nd best season of his career. He did set a lot of lows though such as, allowing a total of 7 touchdowns for the second season in a row and allowing 800+ yards.
Overall, Lattimore is a solid player but he hasn't had an elite season since his rookie year, yet he's always considered a top-tier corner. You can argue he did have a couple in 2019 and 2021 but the thing is in 2019 there was a time where he led the league in yards (326) and he finished 2021 allowing the 5th most yards in the league (826). So what are we going to expect of Lattimore this season? There are so many results that can happen. He did start off his 2022 campaign with an amazing start with only allowing one catch against Atlanta. That's only the beginning though. The rest of the year he's got a tough mountain to climb.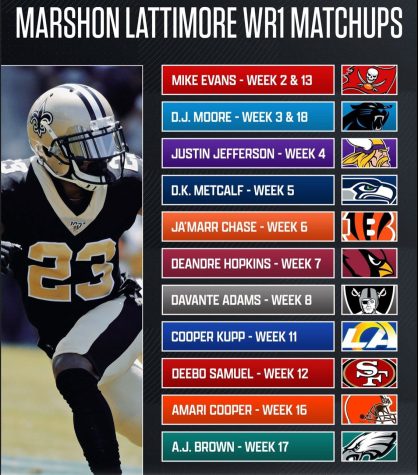 That's brutal. Extremely brutal. It's like the NFL set Lattimore up for failure. He's had prior success against Mike Evans, Justin Jefferson, Davante Adams and Amari Cooper. While at the same time he's had his struggles against D.J. Moore, D.K. Metcalf and Cooper Kupp. All of these guys just put on a masterclass in their first game of 2022. There's 100 outcomes this season and honestly I can't tell what Lattimore's season will result. The way I see it, this is a perfect use of motivation. A potential all-pro season for Lattimore but with that many great receivers, I wouldn't be surprised if he loses a few. This article wasn't necessarily to criticize or slander Lattimore but to point out his highs and lows. Like I said, elite flashes, lowest of lows and unpredictable play. He can be a nightmare for receivers and get toasted every now and then.