Manipulative News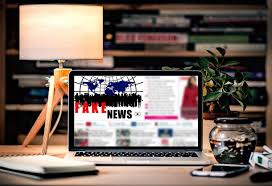 Manipulative trends can be about anything. It can be about movies, sports, and fashion. But none of those things that I mentioned compare to the news. In the society we live in, the news is usually the top story of the media. The news is what gives us the latest information about what's going on in the world.
For that matter, reporters manipulate the viewer's way of perceiving, by simply spreading misinformation about our society. An article that was published nearly 5 months ago on the 19th of June gives us a good understanding of how manipulative trends work. Deadline.com wrote an article on: 'Twitter Slaps "manipulative media" warning on Donald trump tweet featuring fake news' written by Jake Kanter. "Twitter has placed its latest fact check on Donald after the U.S. president posted a video purporting to show a clip from a CNN report on a Trump supporting racist baby. The video tweeted by Trump is an edited version of a wildly viral 2019 clip of a black and a white toddler running to greet each other on the streets of New York. In the version posted by Trump, it shows the black toddler being chased by the white boy, with a fake CNN chyron. It then cuts to what actually happens by showing the two boys embracing. The video ends with the message: That America is not the problem, fake news is. If you see something, say something. Only you can prevent fake news dumpster fires."
I think the article by Kanter is a really good example of how the news can manipulate others views. The media can be so good at manipulating people to think a certain way, to the point where it may lead you to question if you should even trust what the news tells you. My advice for people to spot fake news is to one: check the source, and two: examine the evidence. Now it may sound like a simple process that doesn't have any valid reasoning to back it up, yet, here are some ways on how to examine the process. When checking on the source, do some digging. Check the web address for the page you're reading. Spelling errors in company names, or strange sounding extensions like ".infonet" and ".offer", rather than ".com" or ".co.uk", may mean that the source may be fake. Now for examining the evidence you have to look at the facts, quotes, and data. A credible news story will include plenty of facts and quotes from experts. Does the evidence prove that something definitely happened? If any of these things are missing, question it!