Harry Styles Flaunting His Style
Talented, brilliant, incredible, amazing, show-stopping, spectacular, iconic, and adored are a few words one might use to describe the one and only, Harry Styles. Since breaking off from his former band, One Direction in 2015; Styles has experimented with his music and personal aesthetic. The release of his debut self titled album in 2017 marked a new fashion era for Styles. He's been known to express a more feminine and expressive style with his brightly colored suits, painted nails, and signature pearl necklace. What really broke waves was his cover for Vogue magazine. Not only was he the first man to appear solo on the cover of Vogue, but he did it in a dress too.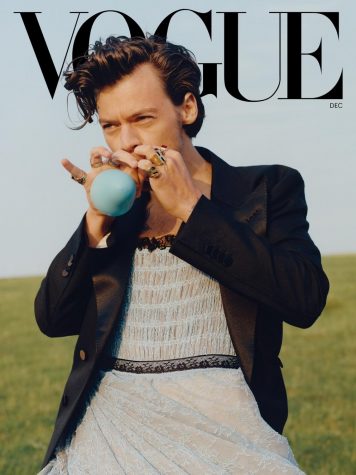 Whether Styles intended to make a social commentary by wearing a dress or not is unknown, but his premiere on Vogue certainly did spark comments. Right-Wing Twitter attacked Styles for his fashion choice but besides that, he heavily was praised. Harry Styles certainly isn't the first, nor will he be the last male artist to cross traditional gender boundaries. However, his presence is an indicator of a change within our society. Slowly, but surely society is becoming more open or at least more aware of gender roles. 
As mentioned, Styles isn't the only artist who challenged gender roles. We also have icons like David Bowie and Prince to thank.  They walked so Harry Styles could run.