New Student-Led "Be The Change" Club
"Be the change you want to see in the world." We've all heard the quote. But how many of us actually put it into practice? Delanee' Hernandez and Caitlin Honeman, Juniors, created the student-led Be The Change club this year to do just that. 
Be The Change meets every other Thursday from 3:30 to 4:30, rotating discussions on a prevalent issue affecting our communities every few meetings. Issues and events include education equality, foster care systems, environmental change, mental health, and book/school supplies drives. 
"It's easy for someone to say 'oh, I posted this on my story, so that means I stand with [this issue],' but you have to be educated on it, and I think that's a really important part we're trying to get at in this club, the educational part, and also giving back," Hernandez said.
After seeing so much misinformation and inaction across social media, the pair of students wanted a straightforward way to spread the word on ways to make a change, starting on a smaller scale. Be The Change chose homelessness as the first issue at hand. "My mom goes to school board meetings and they mentioned the fact that there were over 200 kids in our district that were homeless, which I did not realize…" Honeman said, "we decided that would be a good first topic because it's getting colder." With winter approaching, and limited time in public buildings due to Covid-19, challenges for the homeless population have been amplified. 
In the next couple of meetings, plans will be put in place to choose essential items such as food, PPE/sanitation materials, and feminine products, and donate to schools across the district to accommodate the homeless student population.
Tyler Feldheim, Senior, says "I wanted to join a club that can help make a change. I also want to do more community service and volunteer work. I would recommend this club because it is always good to help others!"
Be The Change will have their next meeting on Thursday, November 12th. Email [email protected] or [email protected] for more information.
About the Writer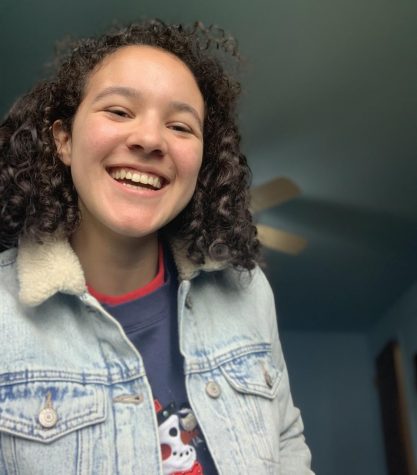 Anabel Perez-Brennan, Staff Reporter
Anabel "Ani" Perez-Brennan
is a senior in her first-ish year of journalism, writing for Wildcat Beat. In addition to being obsessed with music and Star Wars puzzles, Ani likes pi
ñ
a coladas and getting caught in the rain (she hopes you get this song lyric reference, but if you don't, that's also okay since it's true; she does very much enjoy pi
ñ
a coladas, and thinks rain is dope).