Remembering Ruth Bader Ginsburg, a champion of women's rights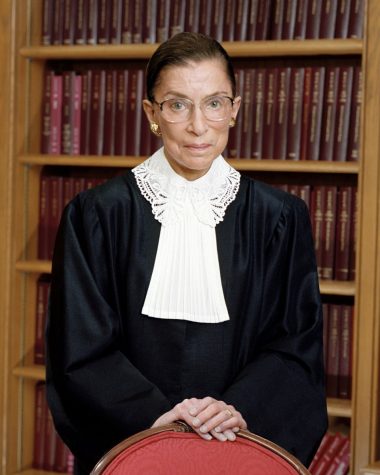 On September 18, 2020, Supreme Court Justice Ruth Bader Ginsburg passed away due to complications from pancreatic cancer. Ruth Bader Ginsburg was nothing less than a legend. She was a feminist icon and proved that women do belong in places of power, or as she so eloquently put it, "women belong in all places where decisions are being made.
The notorious RBG was born in 1933 and faced a lot of adversity growing up in Brooklyn, New York. She came from a low income family yet surpassed all expectations and attended Ivy League schools. She first started off at Cornell University and then made her way to Harvard and eventually Columbia. She thrived academically and finished at the top of her Columbia Law school class. Despite all of her accomplishments, she still faced a lot of discrimination on account of her gender throughout her life. But this discrimination didn't stop her. She became a professor at Rutgers University Law school and her alma mater, Columbia. She also was the director of the Women's Rights Project of the American Civil Liberties Union and argued cases before the Supreme Court six times. 
Ginsburg was appointed to the Supreme Court in 1980 and during her time advocated for the rights of women as well as minority groups. Two of her most notable cases are United States v. Virginia and Olmstead v. L.C. In United States v. Virginia , she ruled that Virginia Military Institutes' male only policy violates the 14th amendment. She stated, "Women seeking and fit for a VMI quality education cannot be offered anything less, under the State's obligation to afford them genuinely equal protection." In Olmstead v. L.C, she ruled under the Americans with Disabilities Act that individuals with mental disabilities are required to be placed in community settings rather than institutions. This ruling put a great emphasis on the needs of the disabled. 
One of her famous dissents was in Gonzales v. Carhart, in which the court banned the use of intact dilation and extraction as an abortion method. She wrote in her dissent, "The court deprives women of the right to make an autonomous choice, even at the expense of their safety. This way of thinking reflects ancient notions about women's place in the family and under the Constitution."
Justice Ginsburg was an inspiration to many and we can only hope that the SCOTUS will do justice to her legacy. We as people should remember her for who she truly was, someone who, as Ginsburg would put it, "used whatever talent she had to do her work to the very best of her ability. And to help repair tears in her society, to make things a little better through the use of whatever ability she has."