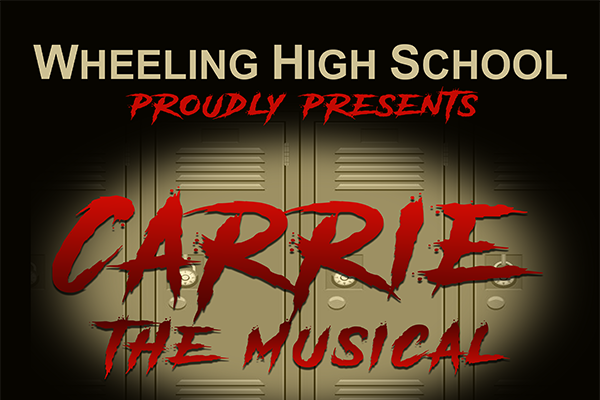 It is officially spooky season here in Wheeling High School as the Chicago weather finally dips into the low thirties. However, that is not the only exciting and chilling event soon approaching. The Fine Arts department at Wheeling High School has announced that this year's musical is none other than the iconic Carrie. 
Carrie tells the story of Carrie White, a friendless, bullied high-school girl from an abusive religious household who discovers she has telekinetic powers. The story follows her struggles and shows the audience the torment she goes through both in school and at home which ultimately leads to an outburst of emotions when she reaches her limit. It also sends a strong message of anti-bullying and the harms it may bring to others. 
When asked about the main concepts of Carrie, members of the Cast such as Sean Fielding who plays George stated that"One of the main ideas is that you never know what someone is going through," he went on to explain how certain people can be affected way more than others in the face of bullying, as seen in the role of Carrie who is bullied terribly in school due to her awkwardness . 
The play's lead Poli Traveski who plays Carrie White explained that the message is" a very heavy but necessary one as when bullying, you can never know what someone could be going through" which highlights the important idea of anti bullying we can expect to see in this year's Musical. 
Since Carrie's publication in 1997, it has received great attention from netizens for its exciting take on horror, emotion and drama. The book has even been adapted four different times into major motion pictures starring Hollywood actors such as Chloe Grace Moretz in its 2013 release. 
The show is no different as it has been described as emotionally impactful and visually stunning by several cast members. Gabrielle Kaprak who plays the abusive mother of Carrie white, Norma white went on to say "the presence of stage violence is not something you normally see" and fellow cast mate Makayla Schmidt stated how they were made to "get out of their comfort zones". Carrie is an extremely complex character and to be able to see members of our school perform such an exciting piece is definitely not to be missed. "If you like horror movies, this is the musical for you," Gabrielle added, as audiences can expect to see blood and fighting on stage. 
Overall, This year's musical is clearly a unique and exceptional one as we get to see such demanding characters acted out by our fellow students. The school is highly encouraged to attend this exciting event to not only support our peers, but to also take in the messages Carrie sends. It will take place from November 16th to the 18th, so remember to snag your tickets as this will certainly be a night you'll never forget.